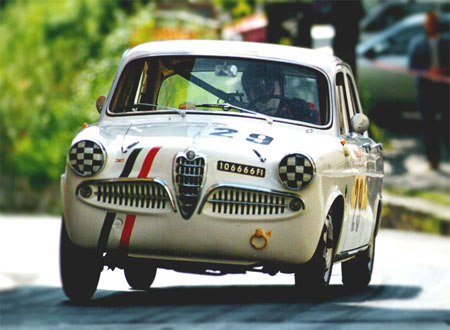 This page should allow any Alfa Romeo Giulietta Ti owners or enthusiasts a quick and easy reference and a place to share pictures of Alfa Romeo Giulietta Ti 's.
Technical specifications are also listed on this page as are Alfa Romeo Giulietta Ti 's for sale, Alfa Romeo Giulietta Ti spare parts and Alfa Romeo Giulietta Ti books and memorabilia. If you cannot find what you are looking for on this page then feel free to use the Goggle Search feature below to search the web for more Alfa Romeo Giulietta Ti information.
The Giulia Ti was launched in 1962, it was powered by an Alfa Romeo Twin Cam engine with a capacity of 1570 cc that delivered an output power of 92 bhp. At first, the Giulia Ti was only available as a left hand drive. Right hand drive models were not produced until 1964. Drum brakes that had been used in previous cars was replaced by disc brakes with a servo mechanism.
The production of the Giulia Ti stopped in 1968 and it was reintroduced as Giulia 1600 S.
Specifications

Vehicle Type:

4-door sedan
Configuration:

Front Engined
Engine(s):
1570cc
Wheelbase
2540mm
Width
2510mm
Height
1430mm
Weight
2156lb