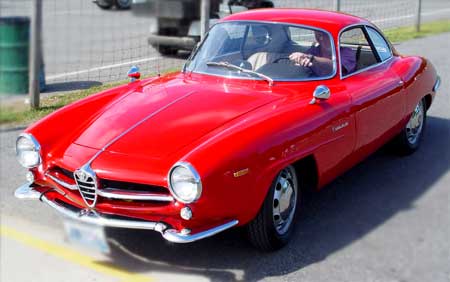 No picture available
This page should allow any Alfa Romeo Giulia SS owners or enthusiasts a quick and easy reference and a place to share pictures of Alfa Romeo Giulia SS 's.
Technical specifications are also listed on this page as are Alfa Romeo Giulia SS 's for sale, Alfa Romeo Giulia SS spare parts and Alfa Romeo Giulia SS books and memorabilia. If you cannot find what you are looking for on this page then feel free to use the Goggle Search feature below to search the web for more Alfa Romeo Giulia SS information.
Alfa Romeo built a series of low volume, special edition cars based on their Giulietta Sprint range between 1959-1966. Most models used the 100bhp 1290cc engine, although the later Giulia SS used a 112bhp 1570cc version. The SS had a long-tail coupe body designed by Bertone. The SZ and SZ2 models were designed and built by another famous Italian coachbuilder, Zagato.
Mechanically these specials were similar to their contemporary production models. They relied on weight saving thin body panels and aerodynamics for improved performance. However, standard equipment for all of these special Alfa coupes included five speed gearboxes and front discs.
Specifications

Vehicle Type:

Coupe
Configuration:

Front Engined
Engine(s):
1290cc
Wheelbase
2350mm
Width
1560mm
Height
1430mm
Weight
1896lb
Number Made
2766
Produced from
1959-1965